Plata del Carmen Jewelry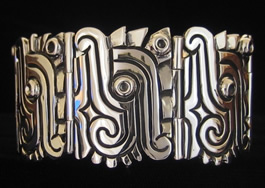 Plata del Carmen specializes in vintage Mexican & Taxco sterling silver jewelry, classic Taxco designs in sterling silver & fine silver and original silver jewelry with a vintage Mexican flavor. Many famous designers are represented, including William Spratling, Antonio Castillo for Los Castillo, Hector Aguilar, Margot van Voorhies Carr for Margot de Taxco, Frederick Davis, Antonio Pineda, Sigi Pineda, Ana Nunez Brilanti for Victoria de Taxco & Cony, Matilde Poulat for Matl, and Valentin Vidaurreta.
The jewelry presented on our website comprises several different categories. The vintage Mexican jewelry is primarily from the period of 1930 through 1970. Pre-Eagle jewelry produced prior to 1948 is also represented.
The second category includes classic Taxco designs from the period of the 1930s through the 1970s. These pieces are typically produced by silversmiths who worked for the famous designers of Taxco during the golden age of silver jewelry production. Many of the techniques utilized to produce the jewelry are difficult to find in today's world, where a great deal of the jewelry is produced in mass by machine. Care has been taken to select pieces of only the highest quality.
A third category includes original designs inspired by vintage Taxco jewelry and executed with contemporary flair.
Plata del Carmen  also offers traditional Mexican jewelry from different regions of Mexico. The jewelry incorporates traditional motifs from Mexico and is handcrafted by artisans in small workshops. Many of the artisans have been recognized in national and regional competitions in Mexico.
A final category includes silver basics jewelry to incorporate into your existing jewelry collection. The jewelry is selected with a goal of timeless style and excellent craftmanship. This jewelry is equally wearable in the boardroom or with your everyday wardrobe.
Adornments Unlimited was established in October 2005, and renamed Plata del Carmen in early 2011 by Carmen Armstrong in Houston, TX. Carmen has a long-standing affection for beautiful handcrafted objects from Mexico and Latin America, where she has traveled extensively. She also has lectured about vintage Taxco silver jewelry for numerous groups.